Have you ever noticed that there is more prevalence of getting sick when you're taking time off as opposed to when you're in your routine and somewhat stressed out?
While research on this topic is inconclusive, some researchers believe that the stress response in the body generates higher immune system functioning, which increases white blood cell count and circulatory response, as well as secretion of hormones like adrenaline. Because your body is on red alert, your defenses are more vigilant and your body is more likely to fight off viruses and bacteria.
But all this comes at a cost. Bodies can withstand only so much stress before they break down. While vacations are a chance to recharge your batteries, slight changes in routine can make stressed out bodies more susceptible to illness. More...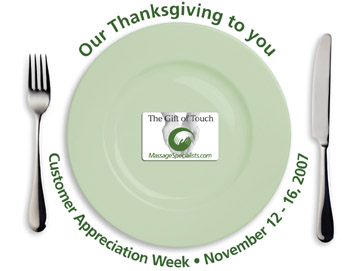 Schedule a massage session and get 20% off our regular rates.
Bonus Gift Card Discount
Take care of all your holiday shopping now. For this week only, purchase any gift card and get 20% more value added to the card.
Click here to buy giftcard online.
(Limit 4 per customer. Please put "CAW offer" in the paypal notes box
or stop by a store location to buy in person.)

Click here to schedule your session now. Sessions scheduled during this time will have 20% taken off our regular prices at the cash register.
---
| | |
| --- | --- |
| Winter squash doesn't just taste good; it's chockfull of potassium, fiber and Vitamin C. It has high amounts of beta-carotene, which is great for fighting cancer and heart disease. More... | Dawn Adkins from the Denver center offers deep tissue, Swedish massage and incorporates shiatsu into her sessions. Recently her work with therapeutic stone massage has been gaining attention. More... |